Games.js Hackathon
06.03.2020 18:00ч. Петък - 08.03.2020 18:00ч. Неделя
Dopamine, гр. София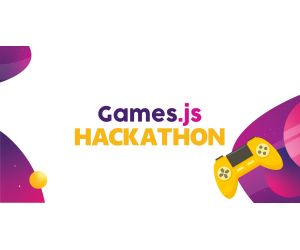 Билети
Информация за събитието
Prizes
1st place -

 3000.00 

BGN
2nd place -

 1500.00 

BGN


GAMES.JS - Who are we?
---
Non-profit developer community seeking like-minded gamers to share resources, techniques, and projects for game development with web technologies.
The main goal we have is JavaScript game development accessibility. We want to provide a common space for all JS game lovers to meet and exchange ideas. 
Technologies we love: PIXI, CreateJS, Howler, GSAP, Anime.js, Cocos, Adobe Animate, Adobe After Effects, Spine. 
 
Announcing our first event! Let's create a game!
Come and join us for a one of a kind competition - Create an epic game with your mates for 48 hours straight!  
Spend a weekend networking and exchanging ideas with game enthusiasts to win an awesome prize while doing what you do best! Bring your ideas to life using the latest technology in a unique environment and atmosphere. 
You will be challenged to combine all your knowledge to break down problems and create real value.
In case you don't have a pre-made team – don't worry! That's part of the fun of a hackathon – Meeting new people! We'll have a team-forming event before the hacking begins, for those who need help creating new teams.
At the end of the 48 hrs event, you will have the chance to present your prototype to the whole community and showcase your finished product!
 
Rules
Members must be in a team of 2-4 members.

The project theme will be revealed at the beginning of the event.

Games must run in a web browser using canvas.

Playable versions of games must be uploaded publicly (GitHub, bitbucket, etc) sharing all code and assets used.

Over 80% of the game's code must be developed on-site.

16+ y.o. 

Projects will be evaluated by a panel of professionals at the end of the event, based on idea originality and overall appeal.
Schedule
 
Friday
18:00 Registration and Networking
19:00 Opening Ceremony  
19:30 Theme Reveal
20:00 Team Formation
20:30 Start 
22:30 Dinner
23:00 Coding
Saturday
08:00 Breakfast
09:00 Coding 
10:00 Presentation -  10 commandments of a gameplay designer
11:00 Presentation - Bootstrapping a PixiJS game
14:00 Coding 
14:30 Presentation: Tweens - the dark horse for game animations
15:00 Presentation: Physics in PixiJS for non-math people
20:00 Dinner
21:00 Coding
Sunday
08:00 Breakfast
09:00 Coding 
13:30 Presentation Preparation & Final Project Steps
15:00 Team Presentations 
18:00  Award Ceremony
Dates 
06.03-08.03
 
Registration starts
18:00
Спонсори

Чрез закупуване на билет, вие се съгласявате с Общите правила и Условия
Организатор
Кога & Къде
Място: Dopamine,
Регион: област София ,
Град: гр. София,
Адрес: ул. Алабин 1 ет.14

Петък, 6 Март 2020, 18:00 ч.
до
Неделя, 8 Март 2020, 18:00 ч.