Talent Acquisition Workshop
16.03.2018 09:30ч. Петък - 16.03.2018 17:30ч. Петък
Hill Tower, ет.3, гр. София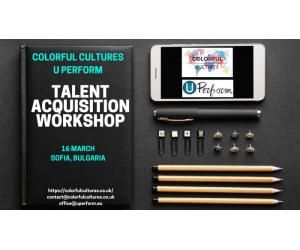 Билети
Информация за събитието
In a competitive environment a leader has to choose two paths:
As the labor market becomes increasingly competitive for talented professionals, the leader needs to be sure he creates the colorful environment, for the employees can fulfil their needs like personal growth, a balance between work and life and an appreciative work environment.
The competition on the sales side requires head hunting key roles from the leader and smarter and faster replacement of the people, for the role to be colored, performed and grown by the future employee.
These two paths are certainly related: Ideally leaders create a win-win set up, aligning personal with organizational goals. But, like in a winning soccer team, people having different roles should express the needed behavior for the required competences way before being proud of high performance, contribution or rewards of their common success.
Regardless of the industry specifics, local crises, pool of candidates, cultural barriers, difficult profiles will put on risk your recruiting process. This is the time when you can switch from a classic but invasive interview approach, based on proven behaviors – to a more diplomatic and softer one, using  In Basket Interview,  simulations –  or using psychometric tests for a higher prediction degree.
For any rational profiles, like most of the IT and account people are, or amiable as the customer service employees are, the strategy should be different. So keep it simple and beautiful!
What you'll get:
Structuring your interviewing approach

Effective interviewing techniques

Tools for achieving higher predictability in recruitment processes

Profiling people

Making the right selection decision
Duration 8 hours. 2 coffee breaks and lunch included.
About the Trainer:
As an experienced consultant for corporate HR, Iulian Ionita created and delivered Organizational Development programs in Europe: Poland, Germany, Bulgaria, Romania, UK. He used to work in different shoes: clients' as Training Manager of Chief of HRBPs and vendors' shoes as trainer freelancer with prestigious Romanian, Austrian or British training companies. He is a Noble Manhattan Coach.Iulian is turning your business ideas into reality as strategist, he is Organizational Development Consultant with Colorful Cultures.
As trainer he has experience of delivering a variety of Cross-Cultural, Sales, Leadership, Strategy programs. As speaker he touches Recruitment and Organizational Development areas, (Performance Management, Retention, Succession, L&D).
Галерия
Спонсори

Организатор


U Perform
U Perform: Бутиково организационно консултиране, коучинг и тренинг за високи бизнес резултати, максимална лична и екипна ефективност.
Кога & Къде
Място: Hill Tower, ет.3,
Регион: област София ,
Град: гр. София,
Адрес: гр. София, бул. "Джеймс Баучер"№ 76А

Петък, 16 Март 2018, 09:30 ч.
до
Петък, 16 Март 2018, 17:30 ч.